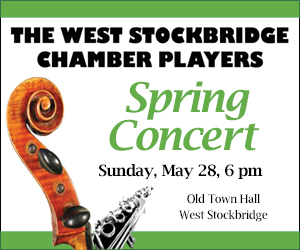 The West Stockbridge Chamber Players Offer A Very Special Concert To Kick Off The Summer Musical Season In The Berkshires
The West Stockbridge Chamber Players offer a very special concert
to kick off the summer musical season in the Berkshires!
On Sunday, May 28 at 6 p.m. the West Stockbridge Chamber Players will perform a benefit concert for the restoration of the Old Town Hall in West Stockbridge. The performance features a large and acclaimed group of musicians, including Chamber Players' artistic director Catherine Hudgins on clarinet, William Hudgins on clarinet, Sheila Fiekowsky on violin, Lisa Ji Eun Kim on violin, Mary Ferrillo on viola, Daniel Getz on viola, Oliver Aldort on cello, and Adam Esbensen on cello. The program includes Eric Shimelonis' For the Love of Music: An Invocation Dedicated to Stuart Kuller, Bohuslav Martinů's Serenade for Violin, Viola, Cello, and Two Clarinets, Johannes Brahms' String Sextet No 2 in G major, Op.36, and J.S. Bach's Largo from Sonata No.3 in C major for Solo Violin. The concert is sponsored by Egremont-Alford and West Stockbridge Cultural Councils and Mass Cultural Council.
Tickets ($35) can be reserved at weststockbridgehistory.org. Limited attendance — first come, first served.