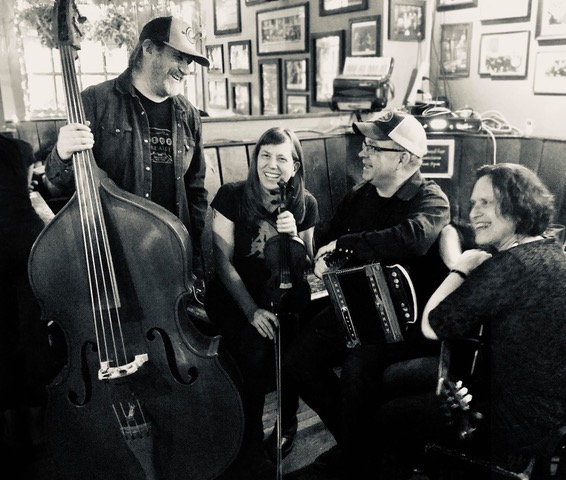 TapRoot Cajun Dance w/The Empty Bottle Ramblers
TapRoot Cajun Dance w/ the Empty Bottle Ramblers
Thursday, May 25, Doors: 6:30, Lesson: 7pm, Band: 7:30pm
Dewey Hall, 91 Main Street, Sheffield, MA 01257
$20 at the door
Refreshments available (pizza by the slice), wheelchair accessible.
Contact: taprootsessions@gmail.com, 413 429 1176
THE BAND
The Empty Bottle Ramblers play traditional Cajun music from southwest Louisiana, featuring driving accordion two-steps, aching fiddle waltzes, and sassy blues, all sung in Cajun French.
Tim Kness (accordion, vocals, fiddle) has longtime ties to this community as a musician and dancer; he's also making a name for himself forging Cajun triangles in the old style. Missy Roser (fiddle, vocals) fell in love with this music after a misspent youth in orchestras and string quartets, traveling to study with Cajun standard-bearers on a range of instruments. Erica Weiss (guitar, vocals) has been learning from and playing with mentors from Louisiana for years and is well known as an old-time musician, caller, and dance instructor. Missy and Erica are also longtime members of legendary Cajun musician Jesse Lége's band, Bayou Brew, and regularly appear on the stages of Festivals Acadiens et Créoles in Lafayette, LA and festivals all over the Northeast and mid-Atlantic. Danny Birnbaum (upright bass) rounds out EBR and travels often to the Cajun parishes for festivals and visits, besides frequently lending his talents to old-time and country bands.
Erica Weiss will teach a Cajun two step and waltz lesson before the music starts!
THANKS TO:
TapRoot concerts, workshops, and dances are sponsored by Big Elm Brewery and supported in part by  grants  from the Alford-Egremont, Great Barrington, Lee, Monterey, Mt. Washington, New Marlborough, Otis, and Sheffield Local Cultural Councils, local agencies which are supported by the Mass Cultural Council, a state agency.