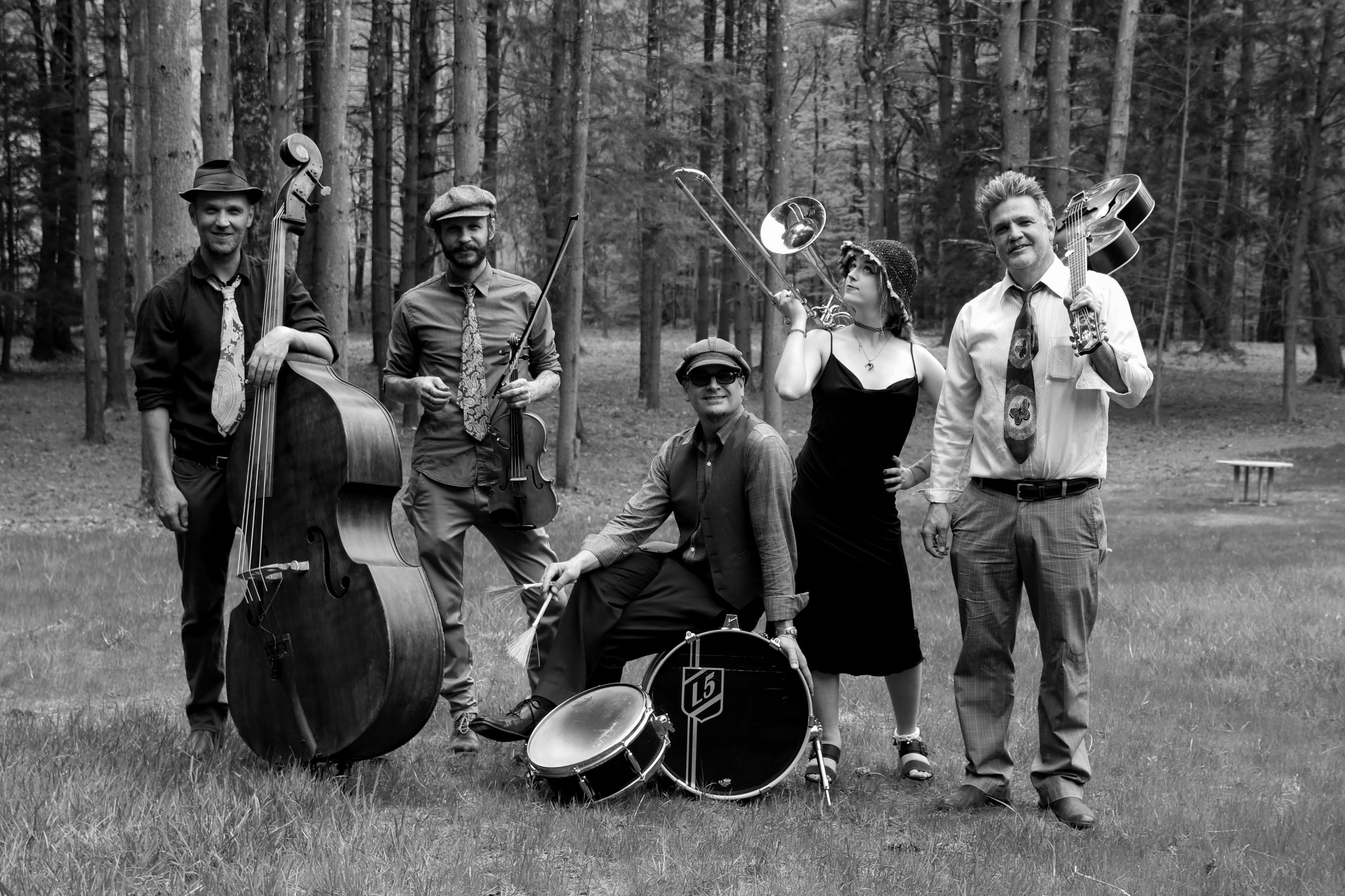 Masquerade Swing Dance w/ The Lucky 5 w/ Eva Salina and Matt Schreiber
Masquerade Swing Dance w/ The Lucky 5 w/ Eva Salina and Matt Schreiber
Saturday, November 19, 7pm 
Race Brook Lodge, 864 Undermountain Rd, Sheffield, MA 01257
Tickets: $25 in advance, $30 at the door

The Lucky 5 team up with Eva Salina and Matt Schreiber to provide an evening of mystery and dancing. Eva and Matt will bring their Balkan and East European flair to the evening. 

Masks optional, but c'mon. Refreshments available.
Matt Schreiber and Eva Salina play beloved Balkan songs on voice and accordion, bringing together many years of study and performance in the various Balkan traditions, as well as other musical adventures that inform their interpretation.
The Lucky 5 is a hard-swinging jazz band that blends 30's and 40's style swing with gypsy and Parisian flavors to create a unique blend of music that stands by itself. Combining originals and creative reworks of old standards, The Lucky 5 continues to be a favorite among music lovers young and old alike.

The band is comprised of highly seasoned touring musicians, having been part of The Hunger Mountain Boys, Lauren Ambrose & The Leisure Class, and traveled, performed and recorded with artists such as Taj Mahal, Neko Case, Iris Dement, Bobby Previte, Del McCoury, Jim Lauderdale, just to name a few.

The Lucky 5 brings verve, high energy, and an unpredictable impulse to the tradition of jazz from the 20's, 30's and 40's, grooving deeply, and keeping feet moving on the dance floor.

 Five heavy duty cats with impeccable creative chops. The Lucky 5 owns swing in the Berkshires! 
– Evan 'Bibs' Palazzo, The Hot Sardines
 
An infectiously rambunctious hot jazz ruckus… 
– Dwayne Brooke, The Woodshedders