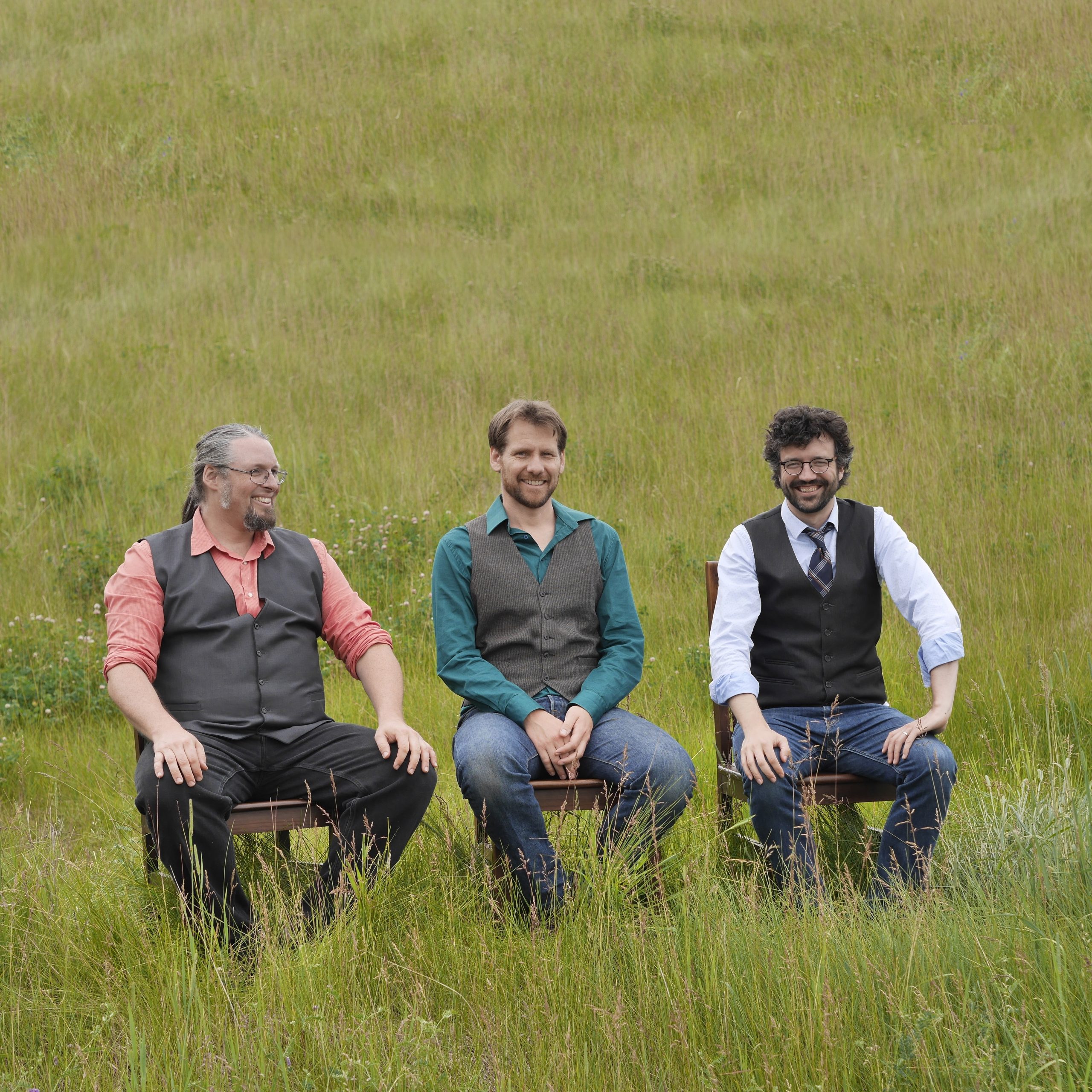 Genticorum, An Evening of Québécois Music by TapRoot Sessions
Genticorum, An Evening of Québécois Music by TapRoot Sessions
Friday, November 18, 7pm – 9pm
Dewey Hall, 91 Main Street, Sheffield, MA 01257
Tickets $25
Refreshments available (pizza by the slice), wheelchair accessible.
Covid Safety: https://www.deweyhall.org/guideline
Contact: taprootsessions@gmail.com, 413 429 1176
TapRoot Sessions produces concerts featuring traditional music.
ABOUT THE BAND
With multiple Canadian Folk Music Awards, as well as Juno and ADISQ nominations, GENTICORUM have earned a reputation as a leading voice in the evolution of Québécois traditional music.
For over twenty years, the trio has earned a place of privilege on world, traditional, folk and Celtic music stages. Known for their unbridled energy, their musicianship and their magnetic stage presence, the trio has won over audiences at such prestigious events as Celtic Connections in Scotland, the Tønder Folk Festival in Denmark, the National Folk Festival in Australia, the Independent Music Festival in Alexandria, Egypt, the Rain Forest Festival in Malaysia, as well as countless venues across North America.
Pascal Gemme (fiddle) and Yann Falquet (guitar), the group's two founding members, are both recognized individually as major contributors to the trad music scene in Québec. Since 2015, they have been joined by accomplished multi-instrumentalist and composer Nicholas Williams (flute, accordion). Weaving intricate fiddle, flute and accordion lines, gorgeous vocal harmonies, subtle guitar textures and exhilarating foot percussion, the pleasure that these three musicians have creating and playing together is palpable, both in the studio and on the concert stage.
THANKS TO:
All TapRoot Sessions events are sponsored by Big Elm Brewing.
This concert is made possible by a sponsorship from The Pass. The Pass specializes in farm to label cannabis, supporting their community with high quality Berkshire-grown flower, pre-rolls, edibles, vaporizers, concentrates, and more. More information about The Pass and their products will be available at this concert.
BAND BIOS:
PASCAL GEMME
Pascal Gemme is a leading light in Quebec's traditional music scene.Known as much for his original compositions as his fine interpretation of traditional tunes, Pascal is the fiddler, singer and arranger of the band, Genticorum, whose CDs have met with critical acclaim in several countries.
From a young age, the fiddle music and songs of his native province have captivated him. After graduating with a degree in composition and band arrangements at Montreal's St Laurent College, he immersed himself in the traditional music around him, playing, collecting and recording music found all over Quebec. Pascal has developed a vast knowledge and is a leading exponent of the music.
YANN FALQUET
Yann Falquet is a very active and creative acoustic guitar player on the Québécois music scene. He has explored many styles of music and completed a Bachelor's degree in Jazz. Since then, he has developed a personal guitar style for Québec folk music, inspired by the playing of the accompanists of different cultures (Brittany, Scandinavia, Ireland, North America).
His involvement in the province's traditional music scene has brought Yann to perform on numerous recordings, and to tour regularly throughout Canada, the U.S., Europe and Australia with Genticorum but also with JUNO award-winning Celtic and world group The McDades, the Jean-François Bélanger Trio and with cellist Natalie Haas.
NICHOLAS WILLIAMS
Nicholas Williams has developed a reputation as a versatile and sought-after musician in the traditional music scenes of Québec and New England. His rhythmic yet nuanced style of flute playing draws from Irish and Scottish traditions, as well as from his studies of classical North Indian music. After completing a BFA in world music and composition at York University, Nicholas moved to Québec in 2000, where he has enjoyed exploring the common ground of his own diverse musical experiences with the rich Québécois musical tradition. Also an accomplished accordion and piano player, he has been a member of the band Crowfoot since 2005, plays with fiddler Laura Risk, and in the Alex Kehler & Nicholas Williams duo.